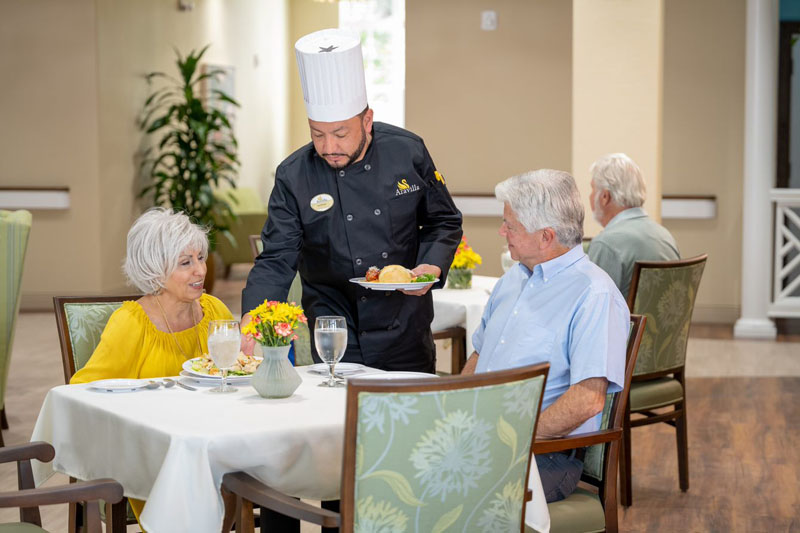 Head Chef and Food Services Director Jose Romero credits his grandfather with instilling human kindness and a strong work ethic in him as a boy. Romero, originally from Colombia, came to the United States when he was just 13 years old and grew up with his grandparents.
"My grandfather left a huge impression on my life. He taught me how to be a man, to be respectful, responsible and caring."
When Romero took a line cook job as a junior in high school, he never thought it would lead to a career as a chef. He started working to earn extra cash and to have something to do after school. But he fell in love with the fast pace of a commercial kitchen and his appetite to learn more about cooking techniques and tricks of the trade continued to grow.
"My grandfather taught me the value of learning the basics of your craft," he said. Romero's grandfather passed in 2000, but his influence is lifelong.
Romero found work as a sous chef at a senior living community 13 years ago and hasn't looked back. Working with the residents at Aravilla Clearwater Memory Care gives his life purpose and meaning. "I immediately saw the positive effect that my cooking and my relationship with the resident has on their lives. All that my grandfather taught me about patience, compassion and empathy came back to me. To honor his memory, I've dedicated my life to the senior living industry. This is where I want to end my career."
Romero truly cares about his senior residents and is driven every day by his understanding of the importance of providing them with proper nutrition. He understands that residents' medications and other changes in their health status can alter how his diners taste certain dishes or enjoy them. He takes deep pride in ensuring he understands each resident's taste preferences and nutritional needs and preparing especially tempting foods for those with low appetites or special dishes for residents with eating difficulties.
"Sometimes their teeth can become sensitive, or a new medication makes things taste funny for a while—or maybe it makes them less hungry than usual. I think about all of these things each day as I plan meals for each of our residents."
Romero's daily meal plans are based on the very healthy Mediterranean diet and emphasize the most nourishing and freshest selections of meat, vegetables and fruits. And he takes great care and pleasure in ensuring the food is beautifully plated when it's served in the very pleasant, restaurant-style dining room.
"This is a beautiful and wonderful place to live, so I make sure that my food is outstanding as well! But more than that, I build relationships with our residents, too. They matter to me as individuals—and so that's how I approach their meals: This is for Joan, who needs some extra iron, and that's for Charles, who needs a little extra seasoning with this new course of medication."
"When I see them smile, or someone says, 'This is the best meal I've had in my life,' I know I've made them happy in that moment—and that means everything to me!"