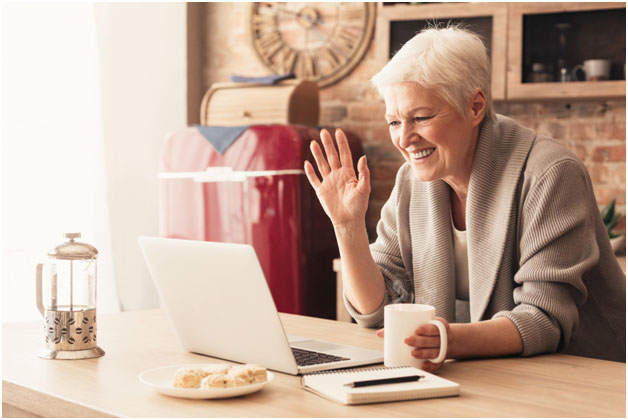 With the additional challenges caused by the ongoing global COVID-19 pandemic, finding senior-friendly activities can sometimes be challenging. If you are looking for ideas to keep the homebound senior in your life active, take a look at these suggestions:
Create an Indoor Exercise Routine
Favorable and low-impact exercises for seniors can be chair yoga, Tai Chi, or, for more active seniors, a stationary bike or a treadmill. Regular gentle stretching is also recommended since it improves flexibility and range of motion. Stretches done in the morning and evening can be highly beneficial for seniors as their muscles lose flexibility with age. Help your loved one stretch in this order: neck, shoulders, upper arms, upper body, chest, back, ankles, legs, hips, and calves as a great routine.
Get Crafty
Crafts are an excellent way to be productive and have fun with your loved ones. Homebound senior citizens are encouraged to take up painting, knitting, needlepoint, DIY projects, or any other hobby to get their creative juices flowing. Do-it-yourself activities allow seniors to produce tangible items that fill them with a sense of accomplishment. Hobbies can also preserve mental sharpness and fine motor skills.
Video Chat with Friends and Family
It's tough to stay at home during the COVID-19 pandemic and spending days away from people can affect everyone, especially the elderly. To help combat feelings of isolation and loneliness, reach out to your loved one regularly. You can also help them talk with their friends by setting up video chats. Several convenient and easy-to-use apps don't require any special computer knowledge for their services. If your senior owns an iPhone or iPad, FaceTime may be the best choice, for example. It comes preinstalled on these devices, and it's almost the same process as answering a phone call. Other good options are Skype, Zoom, Google Hangouts, WhatsApp, and Facebook Messenger. Another helpful tool is a free app called 'Easy Tablet Help for Seniors', which covers the basics of using a tablet and setting up apps like Skype or FaceTime.
Cook Together
The act of going through recipes, measuring, prepping ingredients, and cooking is great stimulation for the brain. Cooking requires focus, which in turn keeps the mind active. Concentration on a task essentially gives the brain a workout. Cooking activities can be divided into steps to make them more comfortable, helping your seniors participate in a way that works well for them. The ingredients used in cooking also provide excellent sensory stimulation as well.
Take Away
Seniors spending most of their time inside their homes can have adverse feelings of isolation and loneliness. Carefully selected activities can help our aging loved ones enrich their lives while keeping them physically and psychologically engaged. We hope you can use our suggestions and help your elderly loved ones know they're an essential part of their family. If you want to learn more about senior care please contact us.