Memory Care Community Insider
A Monthly Look Inside Aravilla Clearwater
Aravilla Action
Here at Aravilla Clearwater we're all about having fun. Last month we introduced Cooking Class to our weekly schedule of activities and it was a huge success! Our Aravilla cooks get to prep, cook, and devour treats every Monday at 1:45pm in the promenade with chef hats and matching aprons!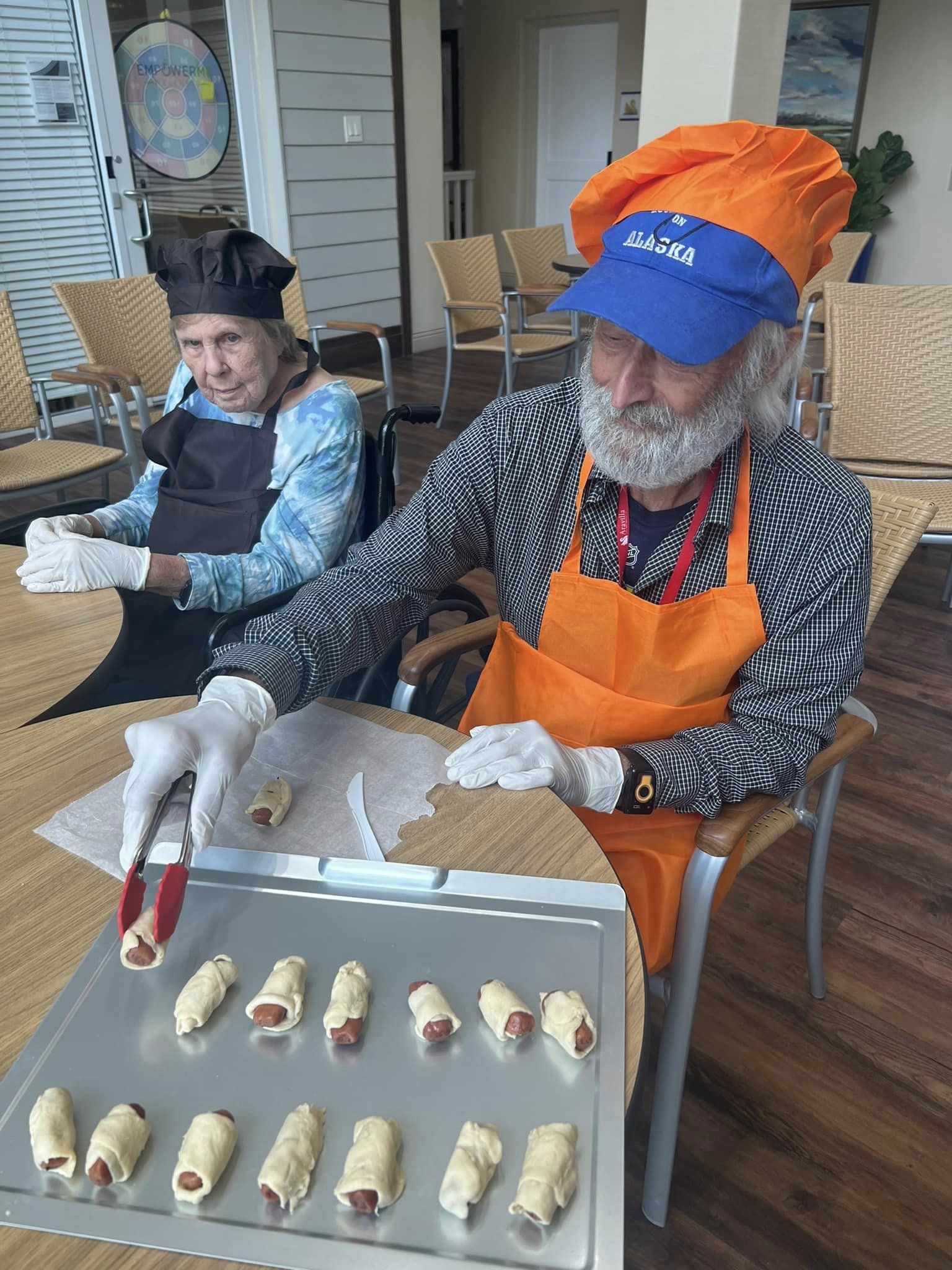 John H. making pigs in a blanket!
This month we will be introducing Karaoke Hour and a new activity called "Name That Tune". Music is a universal language, one that can nurture our emotions, lighten our moods, and even improves our overall health. Music evokes emotions that bring back memories and can help manage stress by stimulating positive interactions. Did you know that singing along activates the left side of the brain while just listening to music sparks the right side of your brain? With so much of the brain being stimulated, our residents will be exercising more mind power than ever!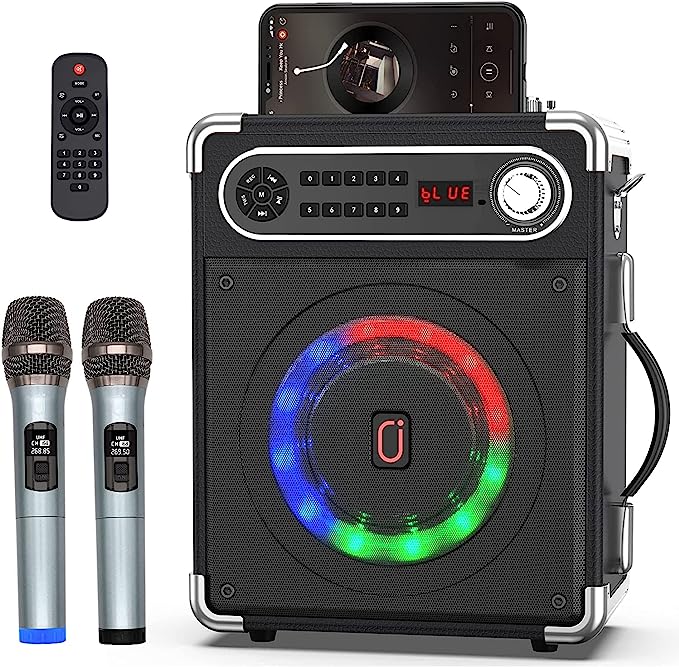 Cornhole Tournament!
This month here at Aravilla Clearwater, we will be hosting a Cornhole Tournament! Our competitive residents are pumped and eager to get this season started. Our Cornhole Tournament games will be held in the Promenade every Wednesday at 1:45pm. During our weekly games, our activities team will keep record of all points to be gathered and calculated at the end of the month. Special prizes will be given to our 1st, 2nd, and 3rd place winners.
Schedule of Events:
Event Begins on 8/2
Games held every Wednesday at 1:45pm
Event Ends on 8/30
Location: Promenade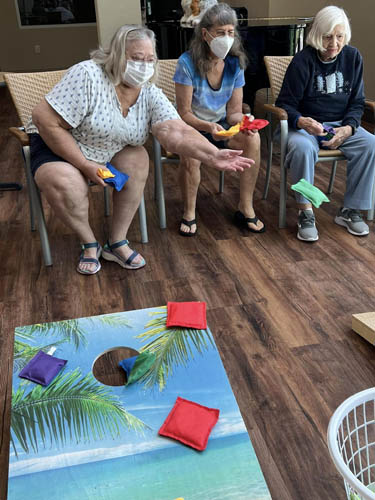 Theresa D. & her daughters playing cornhole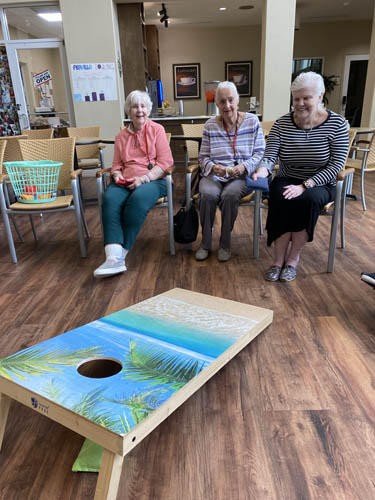 MaryBeth aiming for the win!
Bowling Tournament Champions!
Last month we hosted a Bowling Tournament for the first time here at Aravilla Clearwater! Special shoutouts go to our champions for this month's tournament; Jack K., Barbara S., and Mildred S. Hosting tournaments for our residents comes with many benefits. Not only does it improve overall fitness, but it also improves coordination and skill development, increases confidence and self-esteem, enhances mental wellbeing, and encourages community connectedness and support. Follow our Facebook page; Aravilla Clearwater, for more unique and fun photos of your loved ones on Aravilla Adventures and during our activities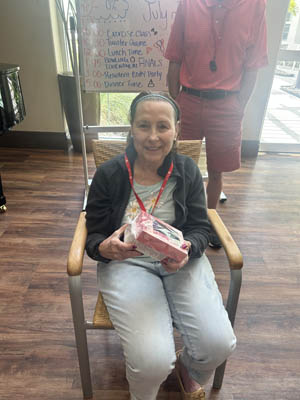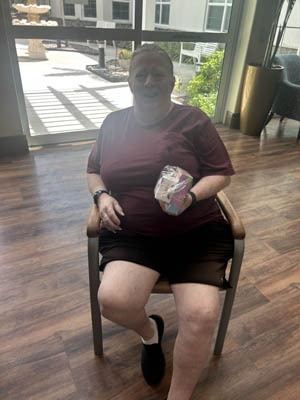 Resident Spotlight Dot S.
We want to take a moment to recognize Dorothy S. as a part of our Aravilla Family. Dorothy was born in Cotton, Georgia in 1941. She had 8 other siblings growing up and her parents were sharecroppers. Dorothy moved all around during her childhood. She graduated in 1959 from Thomasville high school. Immediately after graduating she started working for a doctor as a receptionist. She always made sure things were done on time. She worked for Doctor Miller for 44 years. Shortly after, Dorothy continued working and started at a escort travel agency with Happy Travelers. She has been to many parts of the world including Australia, Greece, Egypt, Turkey, England and more. She even got to ride a camel across the desert on one of her work trips! Dorothy loved going to the pool. She would get up at 5:30am for an early swim and sunrise. She also went bungee jumping at 60 years old, talk about excitement! Dorothy also really enjoyed going rafting with work friends on the weekends. Dorothy has 1 son, 4 grandchildren, and even 1 great grandchild. She owned a house in Georgia before moving to Florida in March 2022. She decided to move to be closer to her son and grandchildren and has been here at Aravilla ever since. She loves going on our Aravilla Adventures and loves music! We are so lucky to have Dorothy S. as a part of our Aravilla Family.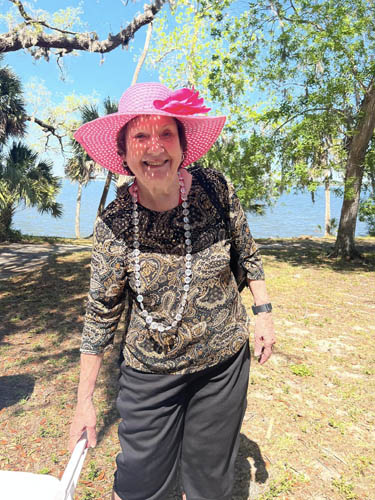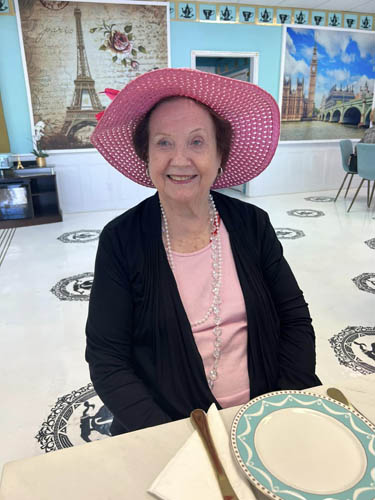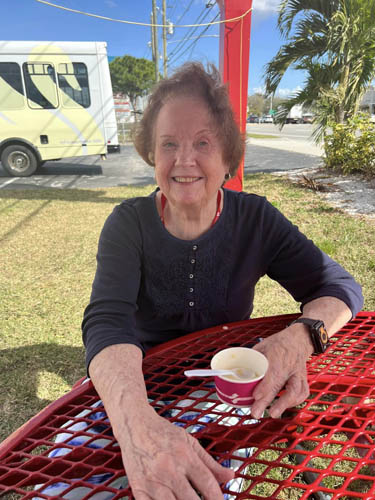 AUGUST FESTIVITIES!
8/1 Steak & Shake
8/3 Resident Council Meeting
8/8 Country Side Mall
8/10 Safety Harbor Pier Walk
8/15 Dunkin' Donuts
8/17 Museum Tour
8/22 Ladies Only Adventure
8/24 Men's Only Bar Outing
8/29 Library Tour
8/30 Resident Birthday Party
8/31 Mystery Drive
Join our Exercise Class with EmpowerME every
Monday, Wednesday and Friday morning at 10am.
Happy Birthday to:
8/1 Theresa D.
8/2 Joan H.
8/9 Harry D.
8/11 Frank S. & Joan W.
8/12 Judy A. & Cristina C.
8/14 Barbara S. & Alex C.
8/15 Mildred S.
8/23 Fotini R.
8/24 Karl P.
8/28 Jack K. & Jean H