Memory Care Community Insider
A Monthly Look Inside Aravilla Clearwater
Love is in the Air!
Hello February, the month of love! We have lot's of new fun activities planned for this Valentines day. As our Aravilla Family grows everyday, our community continues to grow more love. We strive to be the most engaging and family oriented community in town! Arts & Crafts activities are hosted every Friday, in the promenade, at 1:45pm. These activities include portrait painting, sponge painting, birdhouse making, and more. However, this month we will be creating Valentine's Day memories. Keep an eye for flower arrangement activities every Tuesday afternoon at 6pm and Valentine's Day crafting on Friday's. Don't forget to mark your calendars for our next Resident Birthday Party! Join our celebration and enjoy champaign, cake, and live entertainment on February 22nd at 1:45pm.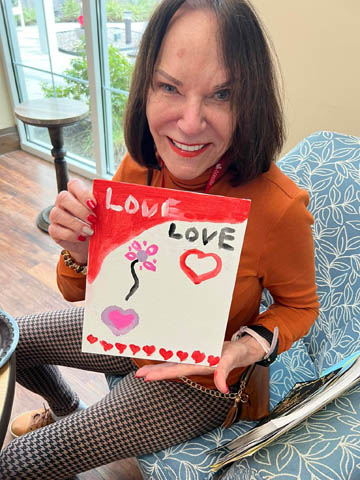 Irene's Valentine's Day Artwork!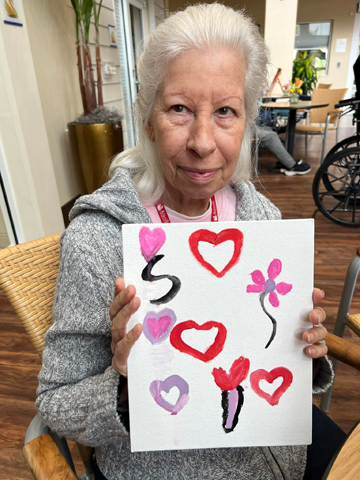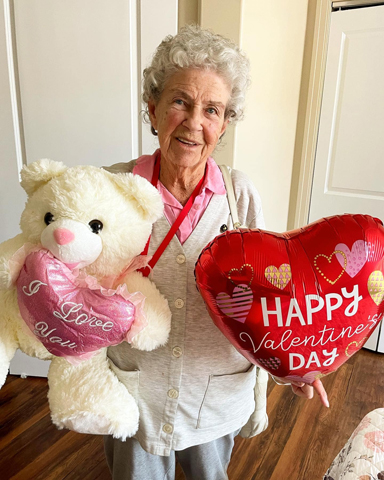 Janet receiving a Valentine's Day surprise!
Drum Circle!
Nothing is better than live entertainment twice a day, everyday, here at Aravilla Clearwater. But what if I told you we could all make music? This year we have started a new engaging drum circle activity where a live drumming instructor comes in and teaches us all how to drum! This a group effort activity that turns out to be very fun, engaging, and highly active.
Did you know that Music recognition is one of the last things to go as memory declines? Proven fact is that listening to music from our youth can trigger past memories and help restore some sense of identity! Proven fact is that listening to music from our youth can trigger past memories and help restore some sense of identity!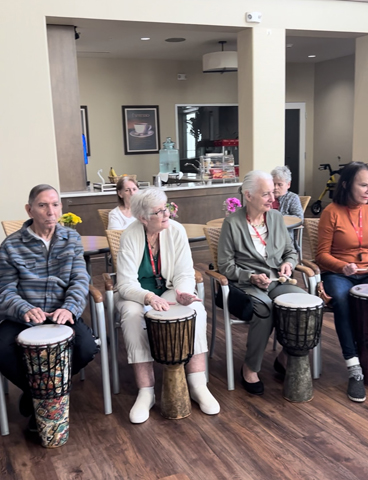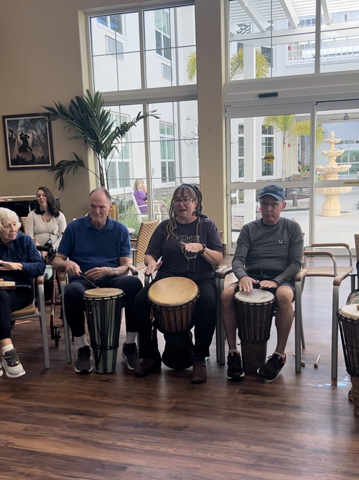 Become one with the drum!
Monthly Therapy Horse Visits!
We've started a new monthly tradition here at Aravilla Clearwater. Every month a Therapy Horse comes to visit our community to enlighten out residents. Did you know that horses can feel human emotions? It's true! Research shows that horses recognize and react to human emotions expressed by facial cues alone.
Psychologists have studied, and proven, that horses can recognize a human's mood from their facial expressions and differentiate between anger and happiness. Interestingly enough, horses have the power to read Human Emotions through a natural bond that they can pick up on and understand. The connection is quite mesmerizing!
Be sure to frequently check our monthly calendar so you don't miss out on our next Therapy Horse Visit!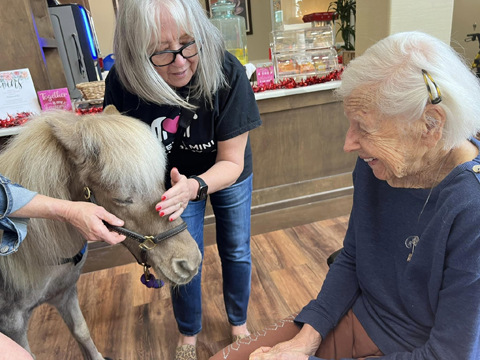 Elfie mesmerized by Belle's smile!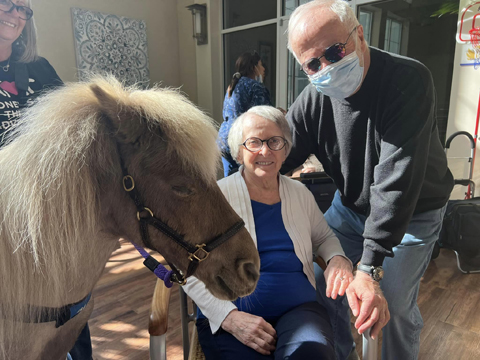 Rebecca posing with Belle, The Therapy Horse!
Resident Spotlight: George C.
George was born in Whitman Massachusetts in 1937. He graduated from high school in 1955 and obtained his Bachler's degree from Massachusetts Maritime Academy. George also served in the Navy for 3 years. Shortly after serving for our country, he worked for Northeast and Eastern Airlines as an engineer that required a lot traveling. George traveled to several countries including Japan, Germany, and pretty much all of Eu- rope! He was a very hard worker! He also designed nuclear subs for electric boats. He then retired in his 60's. Did his love for work end there? George continued to work, he refereed football players for high schools and colleges in South and Central Florida.
George got married in 1960. He has 4 children whom he loves dearly and 7 grandchildren whom he adores. George has also a become a great grandpa in the last 2 years. But let's not forget, he has another great grandson on the way!
George's wise advice for the younger generation!
George continues to be a hard working man as he enjoys to babysit our mascot puppy. He is very smart and funny. You will always see him around with his new side kick…CHICO!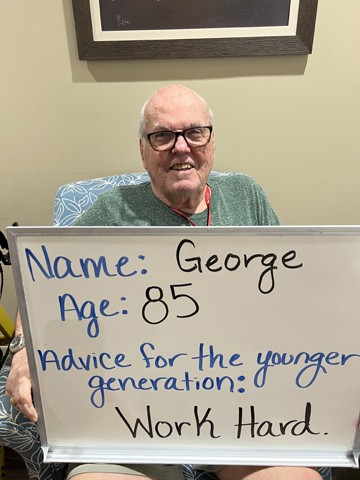 George's wise advice for the younger generation!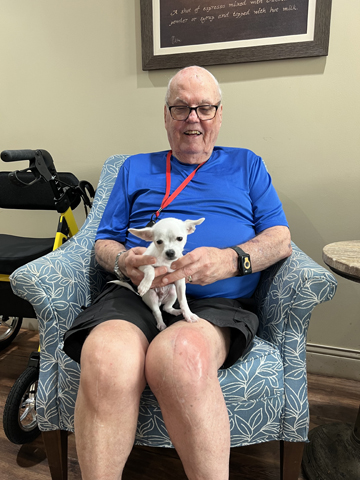 George & his side kick… Chico!
FEBRUARY ACTIVITIES!
2/2 Groundhog Day
2/2 Honeymoon Island
2/2 Resident Council Meeting
2/7 Steak & Shake
2/9 Dunkin' Donuts
2/12 Lincoln's B-day
2/14 Valentines Day
2/14 John Chestnut Park
2/16 Nature Park
2/20 Presidents Day
2/21 Pier at Dunedin Harbor
2/22 Resident Birthday Party
2/23 Ice Cream Adventure
2/28 Mystery Drive
Join our Concierge Cardio Class
every Monday, Wednesday and Friday morning at 10am.
Celebrate February Birthday's in the Promenade
on February 22nd starting at 1:45pm
Happy Birthday to:
2/7 Kerry T., 2/17 Janet M., 2/17 Margaret B.