Memory Care Community Insider
A Monthly Look Inside Aravilla Clearwater
Aravilla Action
Here at Aravilla Clearwater we're all about having fun. With the COVID public health emergency officially behind us, it's time to get out and about and have more fun! Starting this month, we will be offering new activities and more variety than ever before. This means that we will be exploring new locations for our Aravilla Adventures such as museum trips, library trips, mystery tours and more! The brainstorming is endless on our end. Apart from bus outings, we will also be introducing more engaging and cognitive stimulating activities for our residents. For example, Cooking Class will be held every Monday at 1:45pm in the promenade. From baking cookies to muffins, even pizza making, we've got endless ideas and we're ready to take our activities to the next level. Be sure to check our calendar daily so you don't miss out on this new chapter of fun.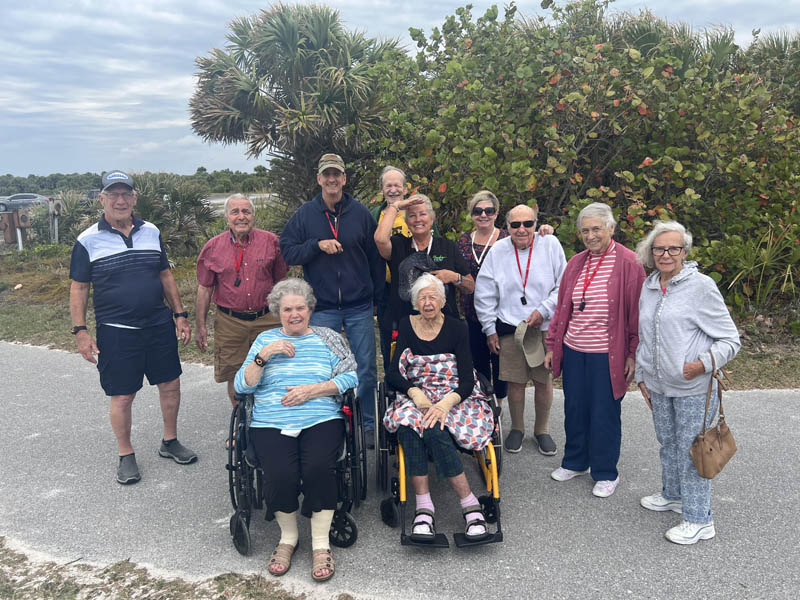 July Bowling Tournament
This month here at Aravilla Clearwater, we will be hosting a Bowling Tournament! Our competitive residents are pumped and eager to get this season started. Our Bowling tournament games will be held in the Promenade every Wednesday at 1:45pm. During our weekly games, our activities team will keep record of all points to be gathered and calculated at the end of the month. Special prizes will be given to our 1st, 2nd, and 3rd place winners.
Schedule of Events:
Event Begins on July 5th at 1:45pm
Games held every Wednesday at 1:45pm
Event Ends on July 26th at 2:30pm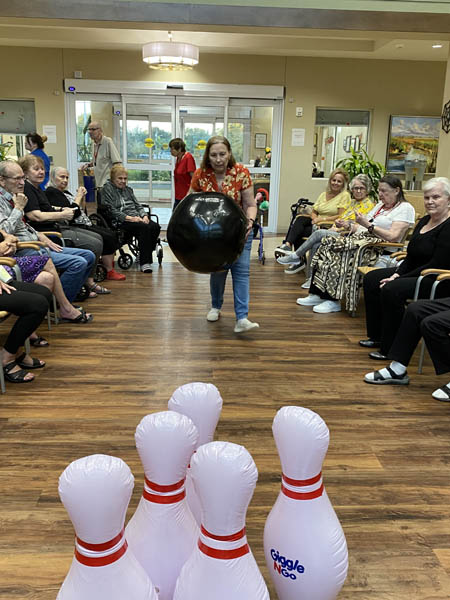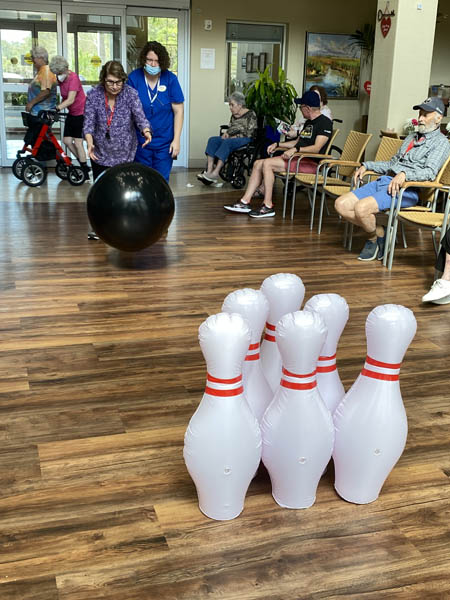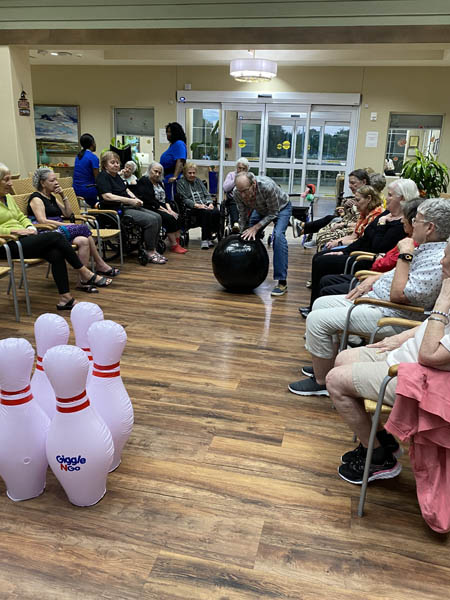 Aravilla Adventures
As stated on the cover of our newsletter, we are now ready to take our Aravilla Adventures to the next level! Last month we got to take our Aravilla Party Bus to the Countryside Mall for pretzels and ice skate watching for the first time! This month we will be expanding our GPS and exploring new fun locations. Aravilla Adventures occur on Tuesday's and Thursday's at around 1:30pm. The last bus outing of every month will be a mystery trip. During this mystery trip, we will surprise our residents with a new location! We plan on going to gardens, exploring libraries and even educational museums. Stay tuned for more pictures of fun new outings! Follow our Facebook page; Aravilla Clearwater, for more unique and fun photos of your loved ones on Aravilla Adventures and during our activities.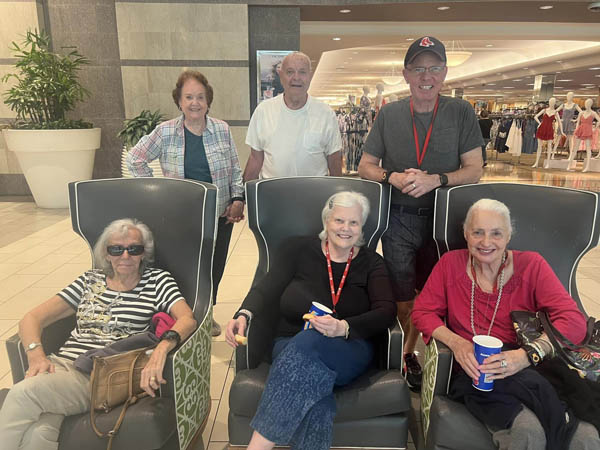 Aravilla Adventure to Country Side Mall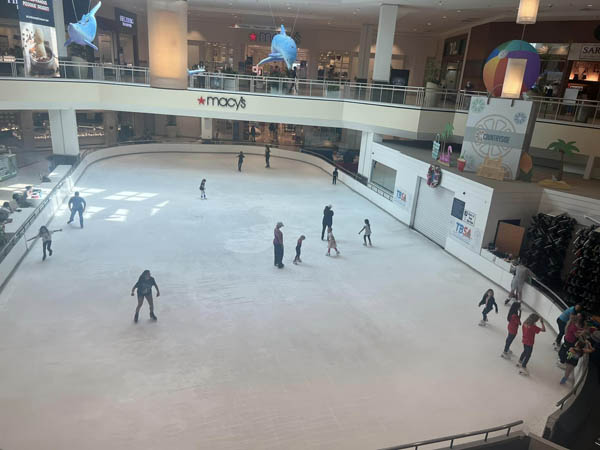 Fun at the Ice Skating Rink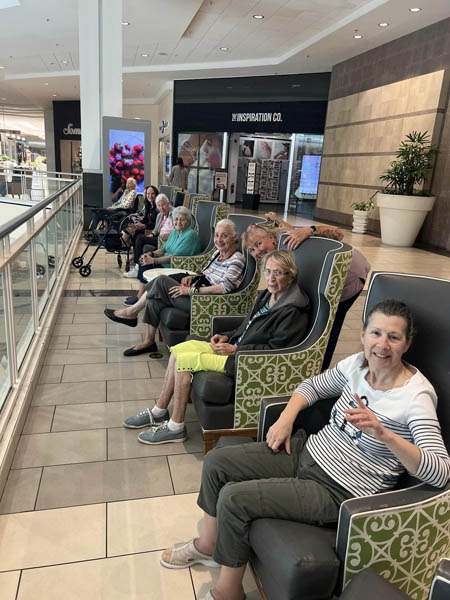 The Aravilla Family Watching Ice Skaters
Resident Spotlight Sheila S.
We want to take a moment to recognize Sheila S. as a part of our Aravilla Family. Sheila was born in Brooklyn, New York in 1937. She graduated high school in 1955 and got married in 1960. Sheila had 3 children during her first marriage and then gained two bonus children during her second marriage in 1989. Both of her husbands were a big part of her and her children's lives! Her kids then had children of their own making her a very proud grandmother of 3, and a great grandmother of 2. Sheila was truly a home maker, however, she did attend technical college later on and studied for office management! She worked at an Oncology/MRI office up until she retired at around 60 years old. Sheila loves to travel, and especially loves going on cruises. She has been all over the United States and even out of the country. Greece, Russia, Turkey you name it, Sheila has been there! Sheila is very family oriented, family traditions are very important to her. She always went out of her way to make everything and everyone feel so special. We are so lucky to have Sheila as a part of our Aravilla Family. She is very full of joy and happiness. You cant miss her big, happy smile down at the promenade during our activities!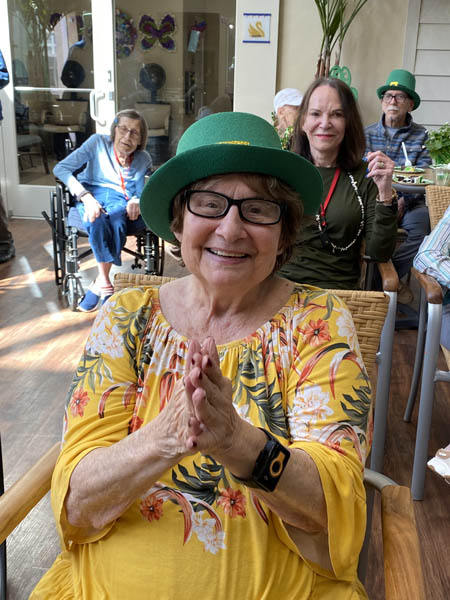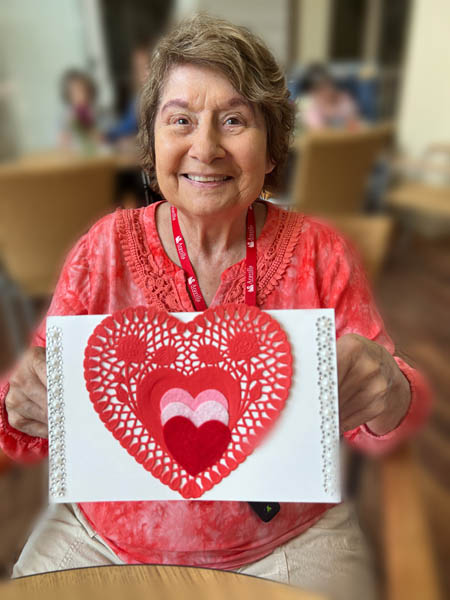 Sheila during card decorating!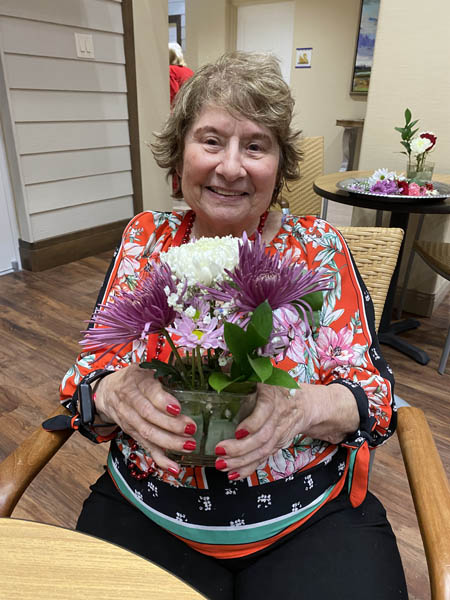 Sheila at Flower Arrangement Night!
JULY FESTIVITIES!
7/4 Independence Day
7/4 Fourth Of July Cook Out
7/6 Resident Council Meeting
7/11 Dunkin' Donuts
7/13 Country Side Mall
7/18 Ladies Only Adventure
7/20 Men's Only Bar Outing
7/25 Steak & Shake
7/26 Resident Birthday Party
7/27 Safety Harbor Pier Walk
Join our Exercise Class with EmpowerME every
Monday, Wednesday and Friday morning at 10.
Celebrate July Birthday's in the Promenade on
July 26th starting at 2:45pm
Happy Birthday to:
7/5 Peter M.
7/8 Elfie L.
7/11 Betsy M.
7/21 Donna P.
7/29 Pam W. & John P.