Memory Care Community Insider
A Monthly Look Inside Aravilla Clearwater
Aravilla Adventures
Every Tuesday and Thursday here at Aravilla Clearwater we have special Aravilla Adventures. Our Aravilla Party Bus departs around 1:45pm and usually returns by 3:30pm. Some of our fun outings include going out for ice cream, going to coffee shops, piers, nature park walks and more. A schedule has been created to ensure that all of our residents have a fair chance to ride our Party Bus regularly.
Be sure to check out our monthly calendar weekly to ensure that your not missing out on a special outing that you might be interested in. Families are encouraged to join us on our memorable Aravilla Adventures. If you are interested in a particular outing please inform our Activities Department.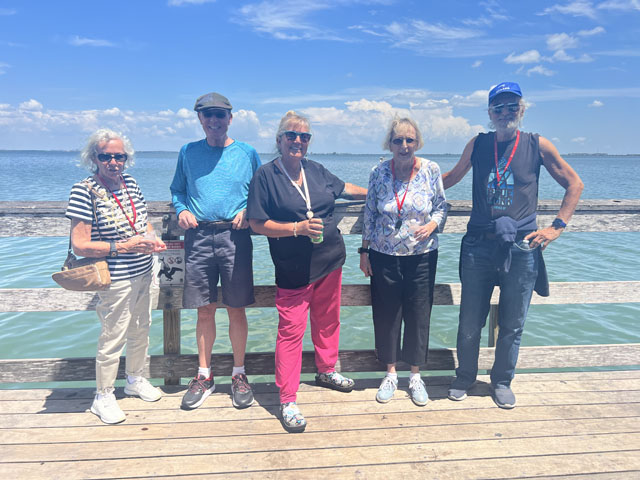 Aravilla Adventure to the Safety Harbor Pier!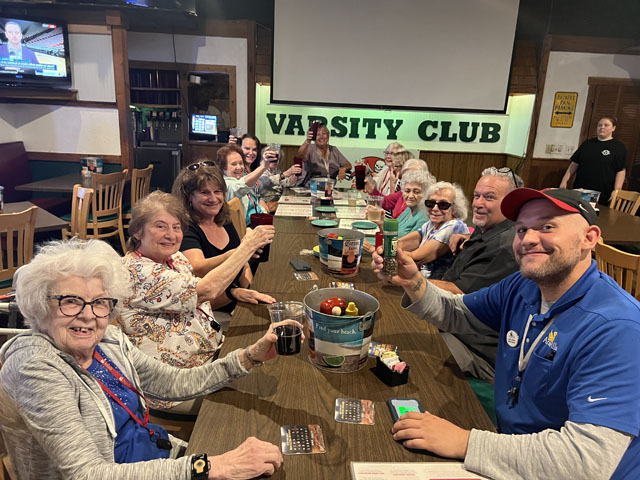 Ladies Outing to the Varsity Club!
Men's outing to the Varsity Club!
Drum Circle
Every month here at Aravilla Clearwater we have a Drum Circle activity. We gather our residents around in a circle and have an instructor teach us how to drum to the beat. This is a great source of Music Therapy. Music Therapy can offer a variety of benefits including enhancement of memory, lowered stress levels, sleep improvement, and anxiety reduction. Be sure to join our next Drum Circle activity on June 20th at 10:30am in the Promenade.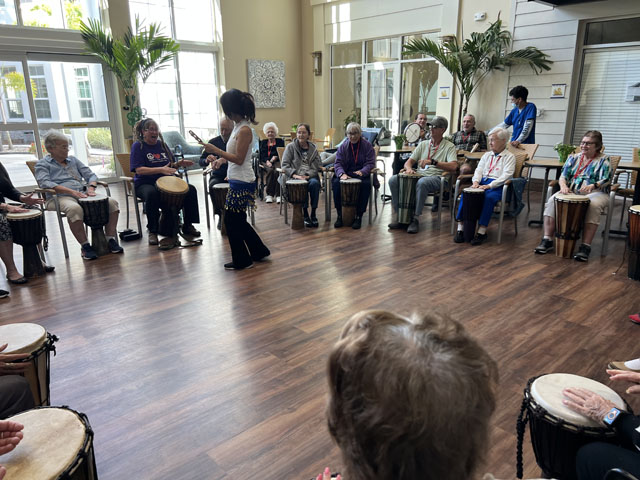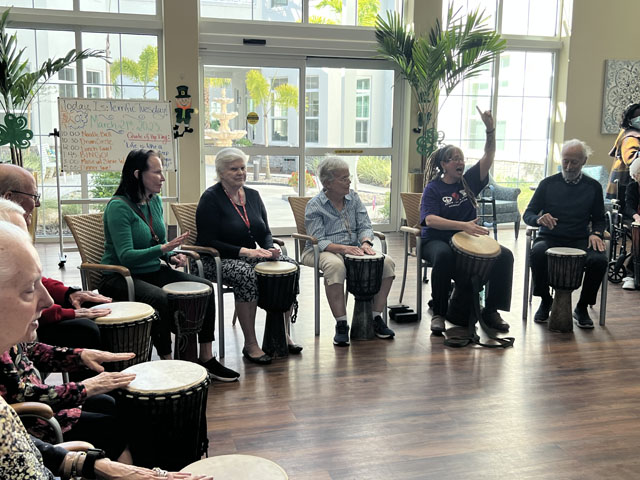 Drum Circle fun at Aravilla!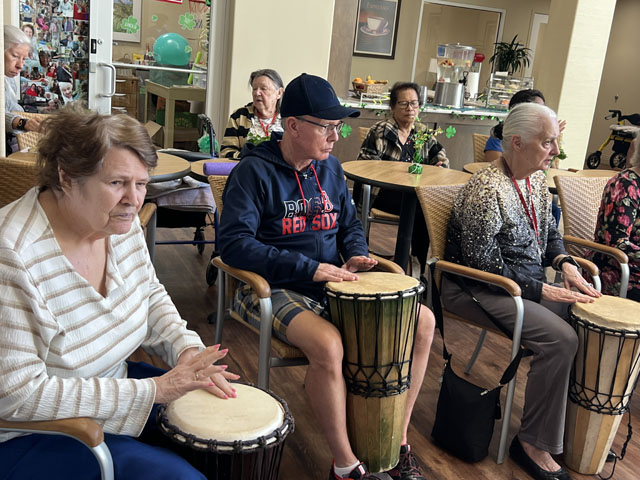 One with the Beat of the Drum!
Walk to End Alzheimer's
Held annually in more than 600 communities nationwide, Walk to End Alzheimer's is the world's largest event to raise awareness and funds for Alzheimer's care, support and research. This year's Alzheimer's Walk will be hosted on October 7th and families are more than welcome to walk with the Aravilla Family! We will be hosting a fundraiser to contribute to this awareness and would like the help of families. We thought a good way to fundraise would be by selling outing tickets for future Aravilla Adventures. Flyers and details will be located at the front desk with the receptionist Barbara.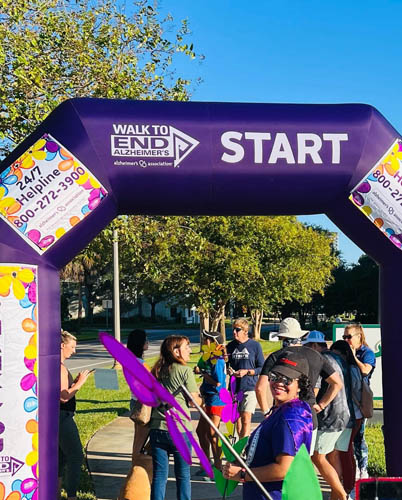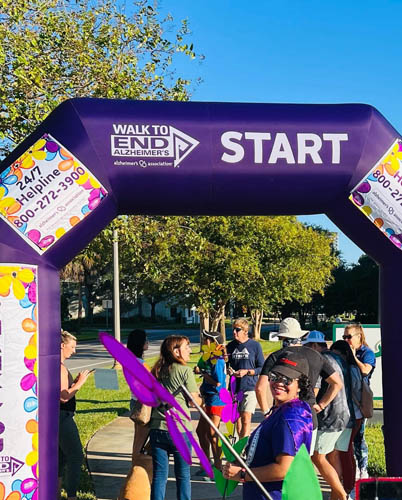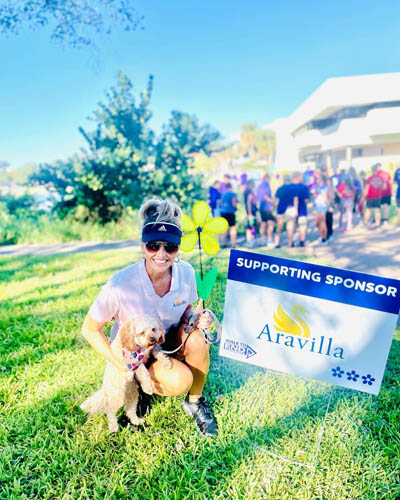 Resident Spotlight Stanley S.
We want to take a moment to welcome Stanley S. as a part of our Aravilla Family. Stanley was born in Rexville, New York in 1930. He graduated from high school in 1948 from Ulysses Pennsylvania. Stanley served for our country for 4 years in the Air Force. After returning he met his beautiful wife, Barbara and together they have now been married for 68 years! They had 2 children who then had kids of their own making them very proud grandparents and even great-grandparents!
Stanley worked for the New Jersey Bell Telephone Company for most of his life. His career involved traveling. He's been all over the USA but one of the most interesting places he has traveled to was Sabia Arabia! Some of Stanley's favorite hobbies were traveling, camping, and driving! He absolutely loves road trips and sightseeing. Stanley and his wife, Barbara, lived most of their lives in Pennsylvania. The two snowbirds would vacation regularly to Florida until they decided to move here in 2001. We are so lucky to have Stanley as a part of out Aravilla Family. Be sure to give him a warm welcome the next time you see him!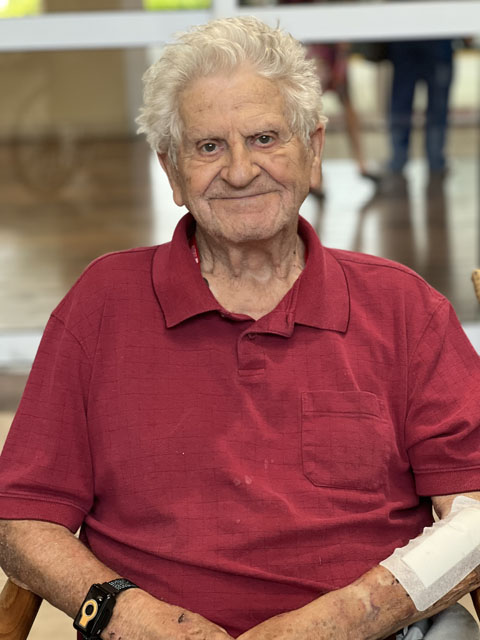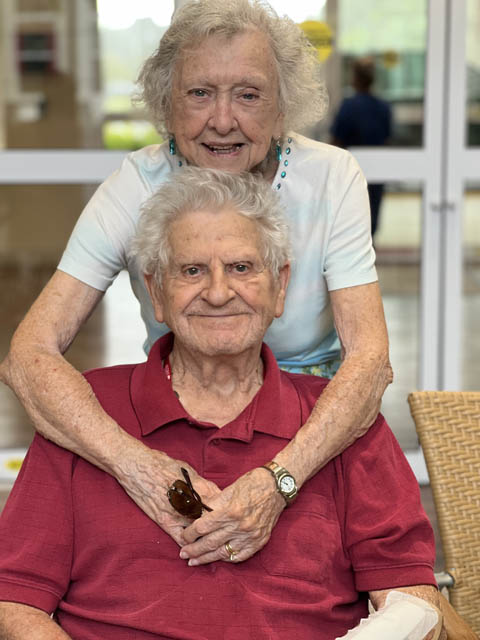 Stanley and wife, Barbara.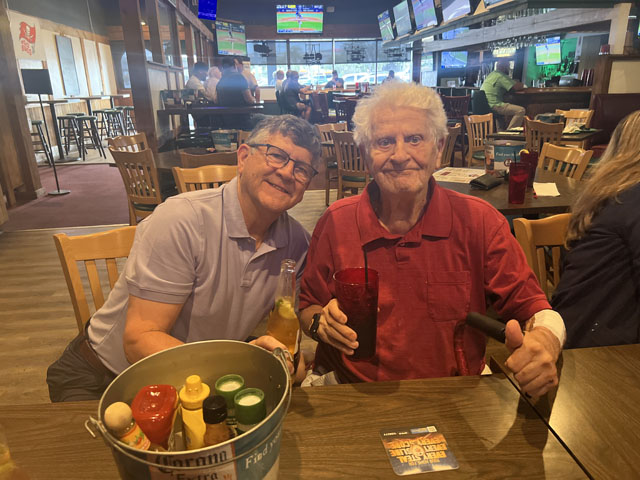 Stanley and son at the Varsity Club.
JUNE FESTIVITIES!
6/1 Resident Council Meeting
6/6 Ice Cream Adventure
6/8 Safety Harbor Pier Walk
6/13 Dunkin' Donuts
6/15 John Chestnut Park
6/18 Father's Day
6/19 Juneteenth
6/20 Ladies Only Adventure
6/22 Men's Only Bar Outing
6/27 Steak & Shake
6/28 Resident Birthday Party
6/29 Dunedin Pier Walk
6/28 Resident Birthday Party
Join our Exercise Class with EmpowerME every
Monday, Wednesday and Friday morning at 10am.
Celebrate June Birthday's in the Promenade on
June 28th starting at 1:45pm
Happy Birthday to:
6/7 Betsy M.
6/10 Suzanne B.
6/12 Mark T.
6/13 Aline L.
6/23 Janet B. & Stanley S.