Memory Care Community Insider
A Monthly Look Inside Aravilla Clearwater
The Luck of the Irish
Out with the Love and in with the Luck! March has arrived. The months seem to be flying by so quickly here at Aravilla Clearwater, with all of our fun interactions and activities. To quote Shakespeare, "Time flies when you're having fun!" From red decorations to now green. Our next big holiday this month is St. Patrick's Day! Make sure to wear green on Friday, March 17th so you don't get pinched! What is the true Irish meaning of Saint Patrick's Day? March 17th marks the fifth century of our beloved patron saint, Saint Patrick, and for over a thousand years, has been celebrated as a religious feast day.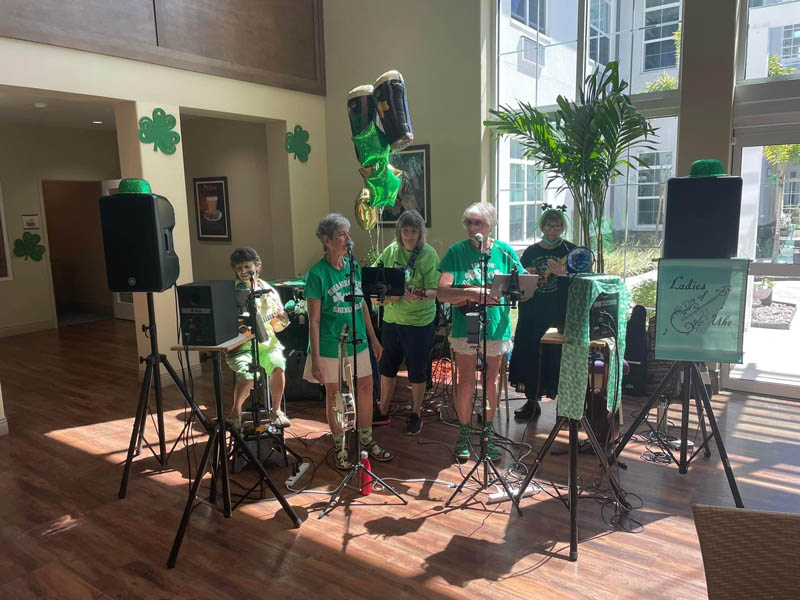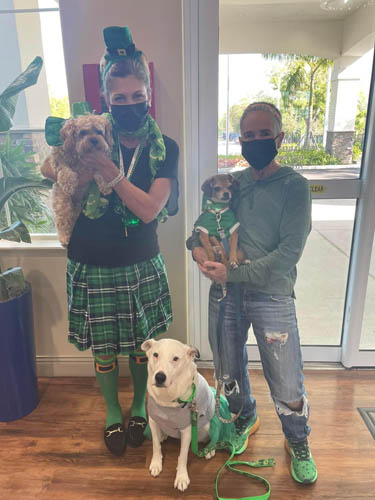 Traci dressed in green to avoid a pinch!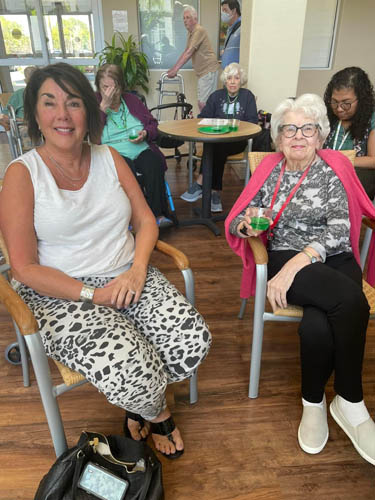 Suzanne and her daughter enjoying live music!
Boys & Girls Club!
A new tradition has been started here at Aravilla Clearwater. Welcome to the Boys & Girls Club! "Girls just want to have fun" as Cindy Lauper once said, but so do the men! Every 3rd Tuesday & Thursday of the month, we will be taking only Men and only Ladies out for some gender specific fun! Men love to bar crawl while the ladies enjoy an Authentic English Tea Party. Oh, but Tea Hats and Pearls are a must!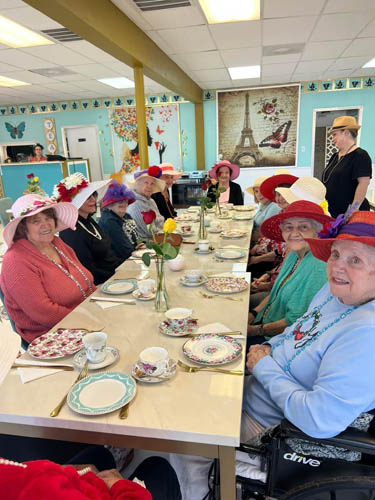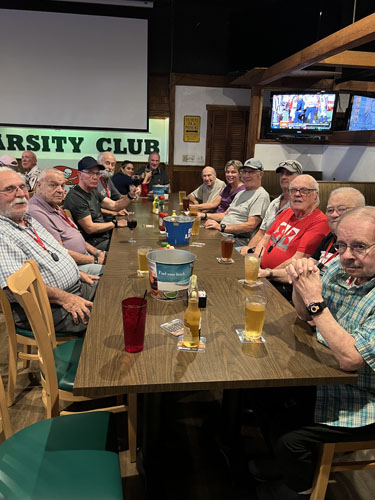 Introducing EmpowerMe Wellness, Our New On-Site Therapy Partner!
We are so excited to welcome EmpowerMe Wellness to Aravilla Clearwater starting 2/1/23! EmpowerMe's talented, experienced team members will offer best-in class physical, occupational, and speech therapy right here at our community — as well as a full schedule of fun and rewarding wellness programs! EmpowerMe therapists are dedicated to helping the people they serve to maximize their independence and achieve their health goals. Their team members will become an integral part of our community as they provide safety assessments, create balance and fall risk reduction programs, and offer language and cognitive training. If you find yourself in need of therapy, EmpowerMe will work with you to build a customized plan to help you identify your personal goals and achieve them! Be sure to stop by the Wellness Gym today and say Hello to the EmpowerMe team. They look forward to meeting you and are so grateful to be part of The Aravilla Family!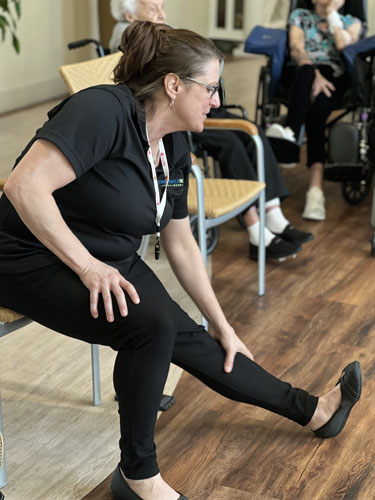 Physical Therapist Instructor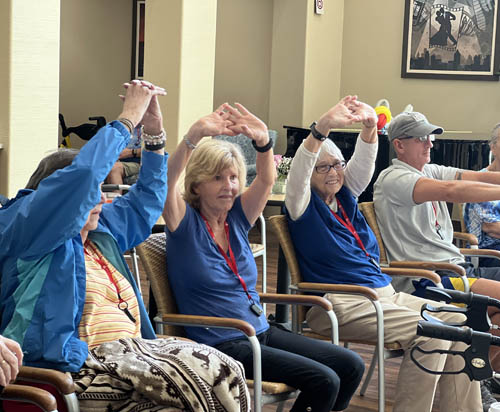 Resident Spotlight: John H.
We want to take a moment to recognize John H. as a part of our Aravilla Family. John was born in Buffalo, New York, in 1944. He graduated from St. Joe's Catholic Highschool in 1962. From there, John then went to Canisius College where he earned his Bachelors Degree in Accounting back in 1967. After working for some time in the JD Elliot company John became a Company Partner for Schunk Wilson & Co, where he was a Certified Public Accountant. John was married for 25 years and has 3 children, two girls and one boy. His children then had kids of their own making him a proud grampa of 5!
Some of John's favorite hobbies include outdoor time, playing softball and attending sports events. His favorite happens to be football! Without a guess, his favorite team is the Buffalo Bills! He's also a big baseball fan, with his favorite team being Boston Red Sox. John is always up for an adventure! One of his favorite family memories is the annual vacations to Canada where him and his family would get a cabin and go swimming, fishing, water skiing, canoeing and more! He would also go on several river rafting trips in Colorado with his daughter and grandkids, and even travelled to Europe a few times to see his son and grandchildren. You can always find John in the courtyard, on the white bench where he says has his name on it! "This is living", Says John as he soaks up the sun!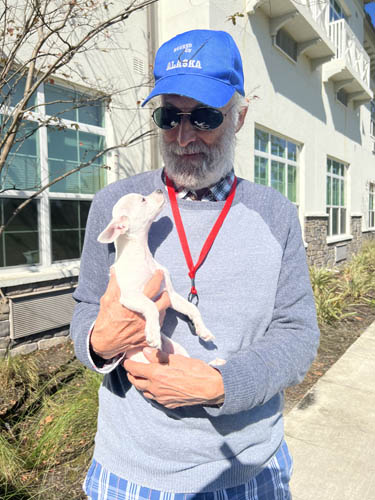 John on a morning Stroll with Chico!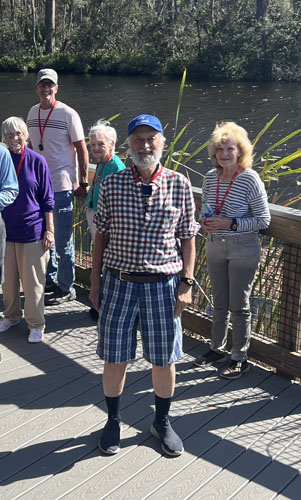 John on an Aravilla Adventure!
MARCH ACTIVITIES!
3/2 Resident Council Meeting
3/7 Steak & Shake
3/9 Honeymoon Island
3/14 Dunkin' Donuts
3/16 John Chestnut Park
3/17 St. Patrick's Day
3/21 Ladies Only Adventure
3/23 Men's Only Bar Outing
3/28 Ice Cream Adventure
3/29 Resident Birthday Party
3/30 Mystery Drive
Join our Exercise Class with EmpowerME every
Monday, Wednesday and Friday morning at 10am
Celebrate March Birthday's in the Promenade on
March 29th starting at 1:45pm
Happy Birthday to:
3/3 Anne L.
3/10 Rose I.
3/24 Carol T.
3/27 Martha C.
3/30 Robert D.