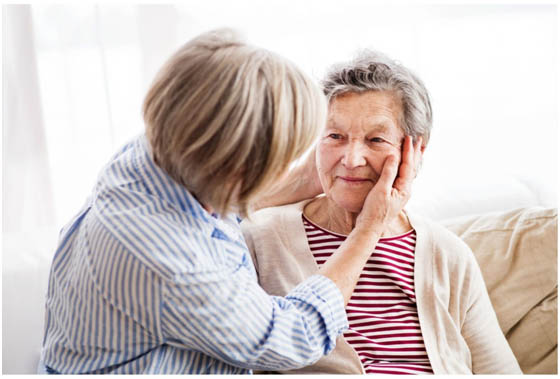 When you were growing up, your parents ensured you had your jacket on and shoes safely tied. They knew that feeling good on the outside could directly affect how you felt on the inside.
Now that they're getting older, maintaining their appearance tends to become more challenging, thanks to physical changes like declining coordination and strength, hair thinning or loss and more. These physical changes can negatively affect self-esteem and, in turn, influence mental and emotional health.
Boosting your loved one's confidence with a bit of self-care can keep them motivated and improve their overall quality of life.
Here are some tips for helping your loved ones feel like themselves again:
A good haircut is a mood-booster. You can arrange an appointment with a specialist who has experience working with seniors' hair and spend quality time with your loved one at the same time.
If you're looking for a memory care community for your parents, ask about salon services. Will they have access to hair and nail care on-site, or will they need to leave the community where they feel safe and comfortable? Will the community handle the arrangements, or will that fall to you?
Questions like these are precisely why we built a salon into our premier memory care community at Aravilla Clearwater Memory Care.
The more, the merrier. Go along to the appointment if you can; quality conversation with you will help boost your loved one's mood and help them be more comfortable and relaxed. If you can't go, maybe a friend in their community would like to go along. Many of our residents book their salon appointments together, and, of course, they also develop wonderful relationships with the stylists and nail technicians they get to see consistently at our on-site salon.
Remember the power of touch. A gentle massage can help to reduce anyone's stress and anxiety, leading to a healthier and happier state of mind. Ask if the salon can massage their hands with gentle lotions or soothing essential oils. The caring specialists at our salon know just how to make our residents feel safe and comfortable while they're getting pampered, with gentle touch and aroma, as well as helping them look and feel their best!
If you want to know more about how we maximize our resident's moments and promote self-care, contact us at Aravilla Clearwater Memory Care today.