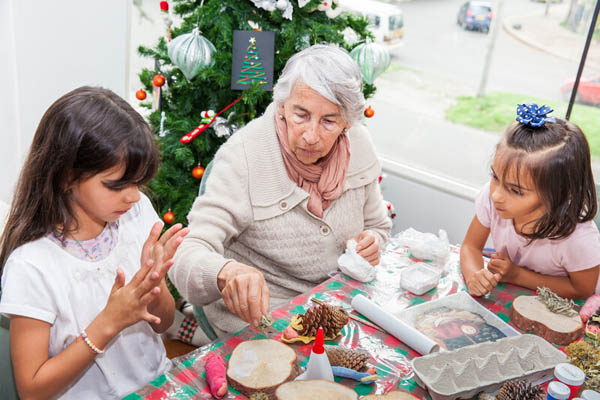 With the holidays approaching and a global pandemic in full swing, the isolation which seniors can experience can be overwhelming. In fact, isolation during the holiday season can increase the risk of depression in the elderly. Autumn holidays are ideal for seniors to interact with their loved ones. Here are some fun activities your aging family members can enjoy:
Attend a parade
Attending social events is beneficial for seniors and can boost their health, wellbeing, and quality of life. Invite them to attend a holiday parade so they can listen to music, watch the floats go by, and share bonding moments with the rest of the family.
Make a holiday wreath
Engage your seniors in collecting leaves, pinecones, and berries in the garden, preferably with their grandchildren, and let them glue or tie holiday wreaths. This kind of creative craft project is ideal for seniors because it helps them stay active and mentally stimulated.
Take a walk
Stroll through the neighborhood or explore local attractions to promote family bonding and a healthy dose of exercise among family members. Walking is also greatly beneficial for the elderly since it can increase their appetite.
Cook a holiday meal
Even if your senior family member lacks the strength to cook a full meal, he or she can still enjoy the steps involved in preparing something nice and tasty for Thanksgiving. Preparing a meal is a fun, bonding activity that can enhance mood, boost cognitive abilities, and give a sense of accomplishment.
Coloring
Coloring is one of the most relaxing activities for all ages. For seniors, especially those with memory issues, coloring promotes calmness and happiness, relaxes the mind, and reduces the risk of anxiety and depression. It is a perfect activity for your parents and kids to do together!
Decorating the home
Decorating is an ideal activity for seniors with cognitive impairment, since the colors, shapes, lights, and other elements of the decorations can stimulate their vision and memories. Help them decorate the house with plastic or ceramic turkeys, felt acorn garlands, or holiday-themed towels so they will have visible proof of their involvement in holiday activities. This will directly influence their mood and increase their sense of belonging.
Go on a scavenger hunt
Mental stimulation is especially important for seniors, as it can decrease the risks of Alzheimer's disease and dementia. If possible, plan a fun holiday-themed scavenger hunt your entire family will enjoy. You can place items throughout the home or backyard to get your family members moving after eating a big meal.
Takeaway
Even if your senior loved ones suffer from memory issues, that doesn't mean they can't feel welcomed, loved, and appreciated during the holidays. We hope you can use our suggestions and have a great holiday. However, if you are unable to include your senior family members in this year's holiday events, Aravilla Clearwater Memory Care can help by taking over your caregiving duties. Contact us to learn more!