Memory Care Community Insider
A Monthly Look Inside Aravilla Clearwater – August 2022
Music & Dance Floor!
Dancing with music is not only an exercise but it's also an activity that our residents enjoy participating in every single day. With our live entertainment twice a day, our community loves to come together in the promenade area where we then convert it into a dance floor! Residents, family members, and staff all love to show their fancy dance moves when it comes to the dance floor. With lots of laughter and smiles overflowing Aravilla, new memories are created and old memories are triggered when the Golden Oldies come on!
Be sure to be at our next Resident Birthday Party hosted in the Promenade on the 29th starting at 1:45, where you too can join our music dance floor.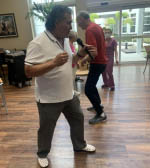 One of our favorite entertainers, Louie Bravo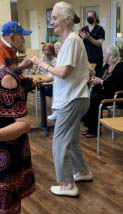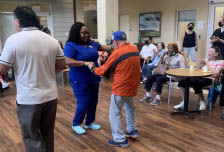 Residents and Staff Dancing
Meet Bailey the Therapy Horse!
Introducing Bailey, the Therapy Horse, to residents here in our community allows our residents to pamper and show love to this beautiful miniature horse. What does a therapy horse do? Bailey, the Therapy Horse, allows our residents to cope with and recover from some physical and mental health conditions.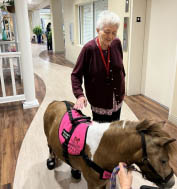 Luz meeting Beautiful Bailey for the first time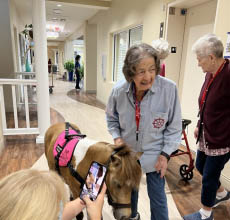 Rose posing for a picture with Bailey, The Therapy Horse
Helping Hands!
From Bingo to Putt Putt Golf, nothing warms our resident's hearts more than helping our community. With our weekly activity, Helping Hands, Aravilla allows residents to feel that their help is wanted and appreciated. This month we had our Aravilla Family all come together to prepare, assemble, and decorate our dining room flower vases.
Early on in Alzheimer's and related dementias, people experience changes in thinking, memory, and reasoning in a way that affects daily life and activities. Their relationships, environment and support all shape their current experience. Through helping hands, this need to be needed is met. Creating a system that allows us to all work together fulfills our residents' needs to help our community. Following smiles and laughter during this activity, they then can admire their work as we display the vases in our dining rooms for everyone to enjoy.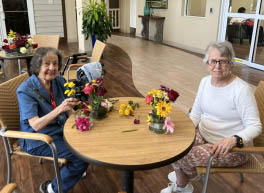 Rose and Jean preparing our flower vases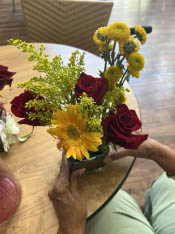 Cristina's finished product displayed on our dining tables
Resident Spotlight: Rebecca S.
We want to take a moment to welcome Rebecca S. to our Aravilla Family. Rebecca was born in Statesboro, Georgia in 1953 and moved to Florida in 2021 with her partner. Rebecca was quite the traveler and has been all around the world including Europe, Italy, France, Germany and more. Rebecca lived in Germany shortly after graduating from the University of Georgia where she then received her fine arts degree. She comes from a big family and currently has two sisters and two brothers. One of her favorite hobbies is coloring adult coloring books. Not only was Rebecca an artist but she was also a graphic designer, a photographer, a reader, and a golfer. Talk about talent! She's a very sweet, happy and loving lady.
We are so happy and excited to have Rebecca S. as a new member of our Aravilla Family. Please give her a warm welcome when you see her!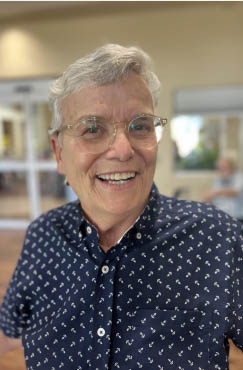 Rebecca's First Day at Aravilla Clearwater Memory Care Community
AUGUTST ACTIVITIES!
8/2 Ice Cream Adventure
8/4 Botanical Gardens
8/9 Beach Walk
8/9 Book Lovers Day
8/11 Phillipe Park
8/16 Nature Park
8/18 Pier 60
8/23 Marine Aquarium
8/25 Heritage Villag
Celebrate August Birthday's
in the Promenade on August
29th starting at 1:45pm

Happy Birthday to:
Theresa Drake 8/1
Joan Walker 8/11
Cristina Carpio 8/12
Alexander Cascione 8/14
John Glogowski 8/22
Karl Pardee 8/24
Jean Hitchcock 8/28
Join our Concierge Cardio
Class every Monday,
Wednesday, and Friday
morning at 10am.