Memory Care Community Insider
A Monthly Look Inside Aravilla Clearwater
Happy New Year!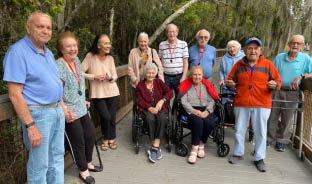 Happy New Year!!! Welcome to 2023! Out with the old and in with the new. This year we will be introducing new fun ideas and activities to Aravilla. Stay tuned with our calendar for upcoming new events & activities! We will continue to be taking the residents out on "Aravilla Adventures", in our passenger bus every Tuesday and Thursday at 1:45pm. We are encouraging family members to come with us on these outings! Family quality time is important for our residents. Nature parks, beach walks, even just for some ice cream. Nothing is more important than our Aravilla Family coming together to create special memories. If you are interested in joining our future Aravilla Adventures, please let Selene, our Life Enrichment Director, know so we can plan accordingly and reserve your seat!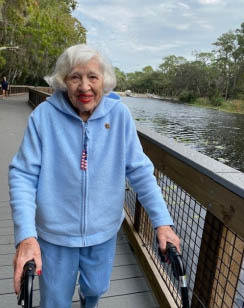 Theresa's Aravilla Adventure to John Chestnut Park!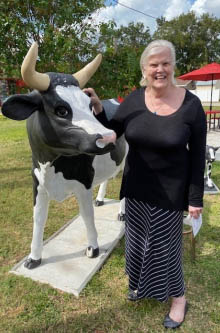 MaryBeth out for some ice cream!
Monthly Resident Birthday!
Every Month here at Aravilla Clearwater we all gather together for a very special event. Our Monthly Resident Birthday Party is held at the promenade, on the last week of every month at 1:45pm. We start off with some refreshments and snacks with champaign offered to residents and family to celebrate. We then get started with some birthday activity fun including birthday photoshoots! Live entertainment is then added to our Party as we all sing Happy Birthday and enjoy some birthday cake! This months' Resident Birthday Party will be on Wednesday, January 25th at 1:45pm. Join us at the Promenade for celebration and fun!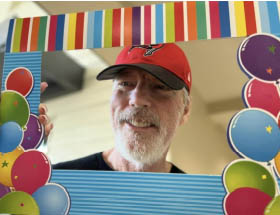 Kenneth's Birthday Photo Shoot!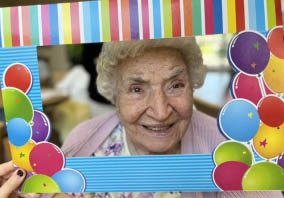 Rose at our Resident Monthly Birthday Party!
Successful Christmas Events!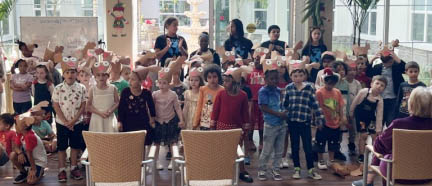 Last month our gracious little 'Santa Helpers", the students at McMullen Booth Elementary School, came to perform Christmas Carols live in the Promenade! After their performance, the kindergarteners handed out special Christmas gifts for all of our residents. Everyone received hand-made Christmas cards and magnets with motivational quotes! Be ready for the next time these wonderful kindergarteners come by to our community again, on our monthly calendar! We also want to thank all of the families, friends and employees who came to celebrate our second annual Resident Holiday Party. It was a huge success and a lot of fun. Everyone got to enjoy delicious hors d'oeuvres, desserts and festive refreshments while listening to live entertainment in our courtyard! Mr. & Mrs. Claus were also very pleased to be able to stop by our community for family pictures.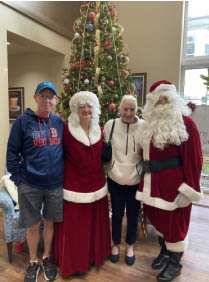 Janet with her husband and son enjoying happy hour and music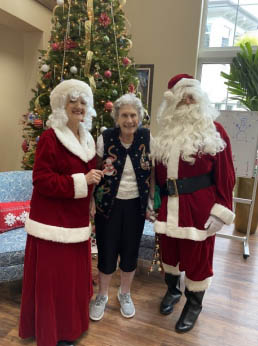 Janet with her husband and son enjoying happy hour and music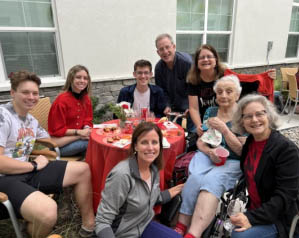 Janet with her husband and son enjoying happy hour and music
Resident Spotlight: Luz V.
We want to take a moment to recognize Luz V. as a part of our Aravilla Family. Luz was born 1931 in Manati, Puerto Rico. After graduating from Highschool, she moved to a small town called Ciales which is located on the central mountain range of Puerto Rico. Luz was married in 1962. She has 5 children, 3 boys and 2 girls. Her children then had kids of their own making her a very proud grandmother of 10. Her love for children didn't end there as she now has a total of 14 great grandchildren! Mrs. V. was a home maker! She loved to cook and clean and take care of her children. Apart from working at home, Luz
worked in the medical field for some time. She worked in hospitals as a receptionist. Luz's favorite hobbies include: dancing, long car rides, and traveling. She's traveled to Canada, Mexico, Spain, and most of the East Coast of the United States. But most of all, her favorite hobby was going on cruises! Luz is a very sweet and loving lady who you will always find in the promenade during our live entertainment! Fun Fact: Do you know what Luz means in English? Luz means Light!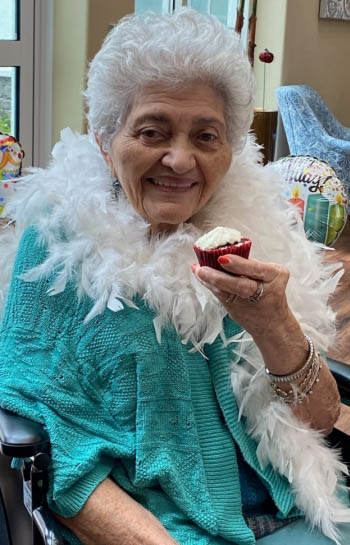 Luz celebrating her birthday!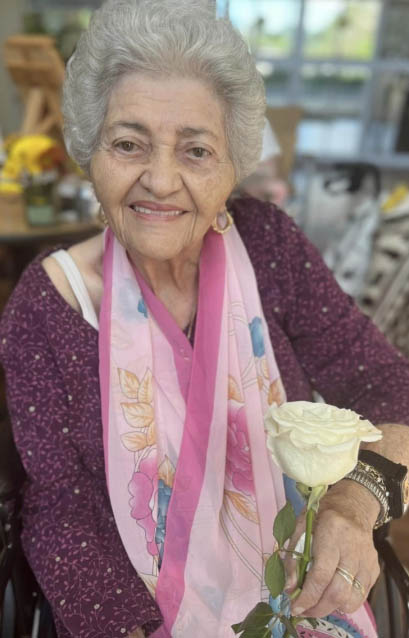 Luz during our flower arrangement activity!
JANUARY ACTIVITIES!
1/1 New Years Day
1/3 Ice Cream Adventure
1/5 Mystery Drive
1/10 Steak & Shake
1/12 Causeway Drive
1/17 John Chestnut Park
1/19 Nature Park
1/24 Pier at Dunedin Harbor
1/26 Clearwater Marine Aquarium
1/31 Mystery Drive
Join our Concierge Cardio Class every
Monday, Wednesday and Friday
morning at 10am.
Celebrate January Birthday's in the Promenade on
January 25th starting at 1:45pm
Happy Birthday to:
1/7 Joseph Winter
1/12 Theresa Bunyan
1/30 Antonio Rodriguez