Memory Care Community Insider
A Monthly Look Inside Aravilla Clearwater
No matter the reason, the date or the season we always can make it a great day at Aravilla. From Birthday parties to special holiday fun, to different activities such as painting birdhouses and happy hour with friends and family. We know how to make a good time for everyone. The residents love to decorate and discover some new fun facts with our monthly trivia games.
Once a month we celebrate all of the residents born in that particular month at our Resident Birthday Party hosted on the 28th starting at 2:45. One of our live performers comes in to entertain us as we share delicious sweets,bmuch laughter, and many smiles.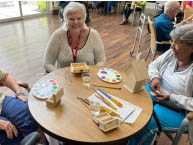 Cristina and MaryBeth laughing together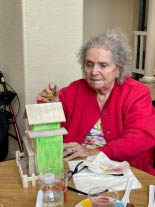 Trudy custom painting her bird house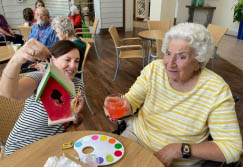 Rose enjoying Sangria while painting with her friend
Creative Custom Caricatures!
Aravilla has introduced a brand-new activity to our memory care community this month, creative custom caricatures! We think outside the box! Or should we say frame? With smiles and excitement on everyone's faces, we all got to sit for a few moments and feel like models! We had so much fun bringing a real live artist into Aravilla to create our own personalized caricatures.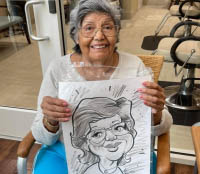 Cristina very impressed by her personalized caricature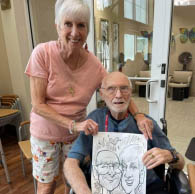 David and his wife preserving this memory forever
Family means Everything!
Aravilla wants to thank all families for being so involved with us and their loved ones residing here. Quality of life means staying engaged with the mind, body and spirit, which is why we highly encourage as much family time as possible. Aravilla loves to see our families celebrate with us. With ongoing communication and awareness, family members help us to have the best possible experience here. This month we will be celebrating Independence Day and ask that friends and families join us on the 4th, to enjoy great food & live entertainment. We will also be hosting a Family Luau Dinner on the 21st at 5pm-7pm. Please RSVP for your family to join us. Upcoming fun celebrations such as, International Joke Day on the 1st, Ice cream day on 17th, and National Cheesecake day on 30th, are also great days to join. Looking forward to seeing your smiling faces as we continue to bring laughter and joy to the Aravilla Memory Care Community!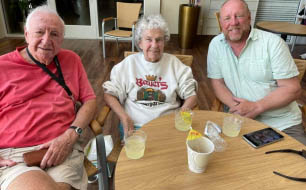 Janet with her husband and son enjoying happy hour and music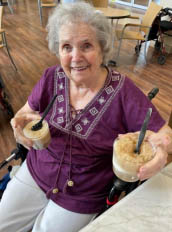 Trudy offering loved staff root beer floats
Resident Spotlight: Robert D.
We want to take a moment to welcome Robert "Bob" D. to our Aravilla Family. Robert was born and raised in Iowa and moved to Florida as an adult and has lived here ever since. Robert is a retired attorney and police lieutenant of Miami Dade Police Department! Bob has two children, Sarah and William who he loves dearly. He also has two grandchildren, named Luna and Leon and will be expecting a third grandchild due in August, baby Ellie. He's counting the days for her arrival!
Robert enjoys football especially the Miami Hurricanes! He also enjoys western films with John Wayne being his favorite. Country music is his peace, especially  listening to Hank Williams. Robert is an outdoors person and enjoys lots of gardening and fishing, and he can't turn down a Pabst Blue Ribbon beer.
We are so happy and excited to have Robert "Bob" as a new resident of our Aravilla Family. Please give him a warm welcome when you see him!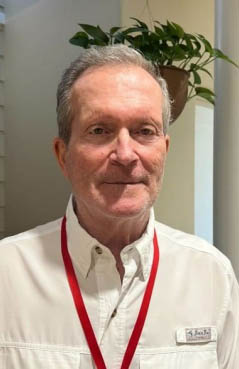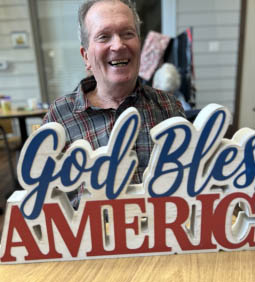 Robert "Bob" preparing for our 4th of July Celebration during helping hands activity
JULY ACTIVITIES!
7/1 International Joke Day
7/4 Independence Day!
7/5 Ice Cream Adventure
7/7 Picnic at the Park
7/12 Phillipe Park
7/17 Ice Cream Day
7/19 Botanical Gardens
7/21 John Chestnut Park
7/26 Heritage Village
7/28 Mystery Drive
7/30 National Cheesecake Day
Celebrate July Birthday's
in the Promenade on July
28th starting at 2:45pm
Happy Birthday to:
Mary Anderson 7/8
Elfrede Luntz 7/8
Barbara Boos 7/13
Shirley Rogers 7/16
Dorothy VanKorb 7/27
Lillian Popowicz 7/27
Pamela Winfield 7/29
John Pruitt 7/29