Memory Care Community Insider
A Monthly Look Inside Aravilla Clearwater
Night Activities
At Aravilla Clearwater it is our number one goal to keep our senior residents engaged all day long with fun interaction. There has been lots of great changes here in our memory care community, with many more to come. Last month we've introduced our second floor activities area! This month we bring to you nighttime activities! Join us at the promenade every Tuesday and Thursday starting at 6pm for all our night owls. Our nighttime activities alternate between bowling, movies and popcorn, gameboard night, flower arrangements, and much more. Stay in the loop! Aravilla Clearwater Memory Care has lots of new exciting events and activities coming up as the holidays roll in. Be on the lookout for flyers around the building and RSVP sheets at the front desk.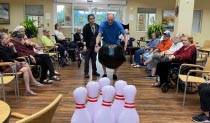 6pm Rollin' Bowling with Crayton!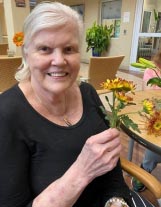 6pm Flower arrangement with MaryBeth!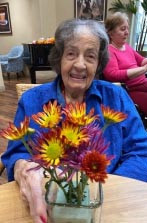 6pm Flower arrangement with Rose!
Adventures with Aravilla
Last month we got to enjoy our first adventure on our brand new Aravilla Bus! Every Tuesday and Thursday we go on different adventure outings at 1:35pm. From Ice cream stops, to nature parks, even aquariums, the fun does not end. A routine schedule has been created that alternates all of our memory care residents to
ensure that everyone gets a ride on our bus every few outings. We are encouraging family members to go with us! If you are interested, please let the Selene, the Director of Activities know so we can plan accordingly.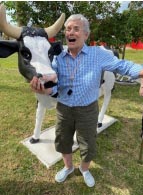 Rebecca posing with the ice cream cow!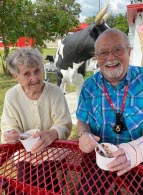 Mr. & Mrs. L. enjoying ice cream!
Fall Festival Winners!
Aravilla's very first Halloween themed Fall Festival was a huge success! Thank you to all of our residents, families, and staff who participated and dressed up with costumes. Coming together for holidays and special events really enlighten our memory care residents. This is what makes our community The Aravilla Family. The promenade and courtyard was overflowed with smiles the entire night! During dinner, we got to watch The Amazing Richie perform his spooky magician show. Shortly after we gathered all of our residents who dressed up in costumes, and made a vote for the best costume with a prize to be won! Happy hour then followed with games and activities for the rest of the night. We want to encourage more families and friends to attend our special holidays and events in the future especially our monthly Resident Birthday Party. This month we will be having our Resident Birthday Party on November 30th, starting at 1:45pm. Be sure to make it to enjoy our Champaign, cake, and live music celebration!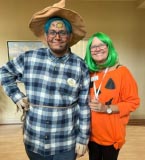 1st place costume contest winner, Pedro!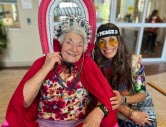 2nd place costume contest winner, Rose P.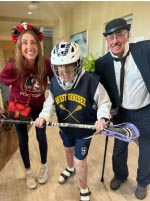 3rd place costume contest winner, Rose I.
Resident Spotlight: Reggie B.
We want to take a moment to recognize Reggie B. as a part of our Aravilla Family. Reggie was born in Oskaloosa Iowa January 1928. After graduating college and receiving his Masters in philosophy, Mr. B. served in the coastguard auxiliary. From there he decided to start his own business. Interestingly enough, Reggie constructed parts for the space program. From starting off in his own cellar, his business then took off and expanded into a multi-billionaire company! After being married for 65 years and having 5 children, 3 girls and 2 boys, he than became a grandfather of 8. Shortly after retiring, Reggie purchased an RV and traveled all over the United States and Canada. Reggie's. life was full of excitement! From Scuba diving to piloting small airplanes, Reggie got to experience a lot of fun! He is a very smart, funny man who enjoys his time here at Aravilla especially our Aravilla Adventures. You will always see him around with a smile on his face!
Reggie's first Aravilla adventure!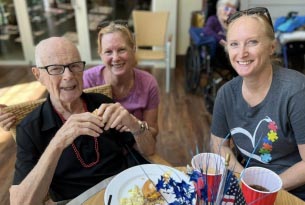 Reggie celebrating with family at one of our parties!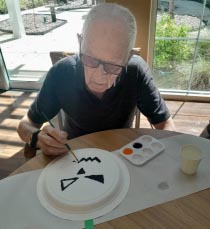 Reggie painting a pumpkin face!
November Festivities!
11/1 Botanical Gardens
11/3 Ice Cream Adventure
11/8 Heritage Village
11/10 Beach Walk
11/15 Phillipe Park
11/17 Nature Park
11/22 Pier at Dunedin Harbor
11/24 Thanksgiving Day
11/29 Mystery Drive
Celebrate November Birthday's
in the Promenade on November 39th starting at 1:45pm
Happy Birthday to:
11/2 Barbara Rawe
11/14 Claire Havens
11/19 Isabel Threinen
11/21 Paul Daschbach
11/27 Susan Baig
11/27 Janet Scott
Join our Concierge Cardio Class every Monday,
Wednesday, and Friday morning at 10am.