Memory Care Community Insider
A Monthly Look Inside Aravilla Clearwater
The Fun Never Ends
It is our number one goal to keep our residents engaged all day long with fun interaction. We have now introduced activities to our second floor! By providing an
option with activities, residents experience the feeling of freedom and control by choosing which activity they prefer every single day.
Shhh, were watching a movie! Introducing our private movie theater! With popcorn, of course! Stay in the loop! Aravilla has lots of new, exciting surprises including our Aravilla Bus for outings that will be starting this month! In addition, Aravilla will be hosting a Halloween Fall Festival that will be on October 28th, from 4pm-7pm. We want to invite all families to join just for this event. Games, food, and beverages will be provided. Please RSVP with the receptionist at the front desk.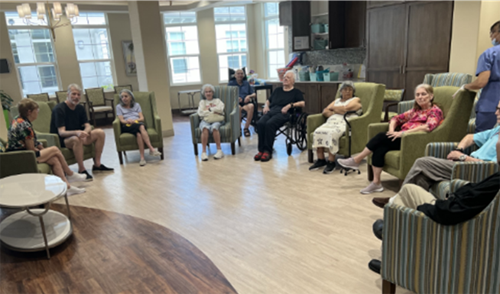 Upstairs Circle Time for Kick Ball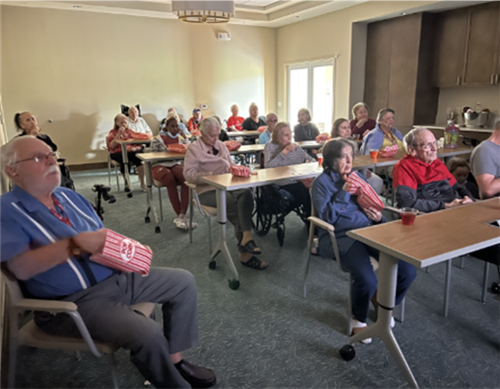 Friday Movie Day & Popcorn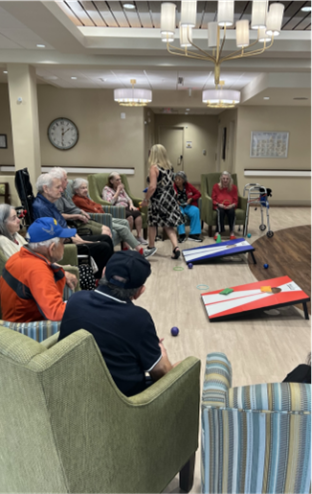 Upstairs Cornhole & Ring Toss
Rollin' Bowling!
Every day here at Aravilla Clearwater, we alternate physical activities such as our Concierge Cardio Class, yoga stretching, noodle ball, volleyball, etc. This month Aravilla has introduced our newest activity: Rollin' Bowling!
It's a busy day everyday here at our memory care community, with lots of fun and laughter. With our activities routine we strive for a successful, busy day and a decrease in the dementia process. Participating in different activities multiple times a day can help a person with dementia achieve purpose and pleasure. It is also an effective way to slow down brain decline. Check out our calendar this month with new afternoon activities offered twice a week!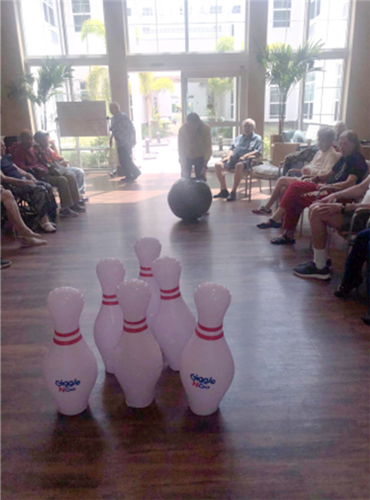 Carol Aiming for another strike!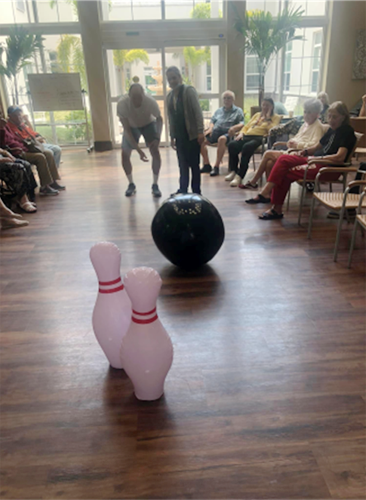 Crayton attempting to get a spare!
Party Time!
We take birthdays very serious here at Aravilla Clearwater! Our memory care community has a monthly Resident Birthday Party the last week of the month where the Aravilla Family gathers together in the Prominade at 1:45 to celebrate. We start the party with some games, snacks, beverages and champagne. We gather our special birthday group and recognize each one with an individual shout-out. Live entertainment is then added to the celebration, ending with a beautiful happy birthday song and birthday cake!
But the fun doesn't end there…
Separate from our group party, each resident is personally recognized on their specific birthday with a cupcake, a balloon, and a gift. It's crucial that we take a moment to recognize each resident's birthday. Birthdays encourage reflection. Celebration makes our residents feel loved, in addition to encouraging them to recall their own memories and accomplishments.
We want to invite families and friends to our next Resident Birthday Party, October 26th at 1:45.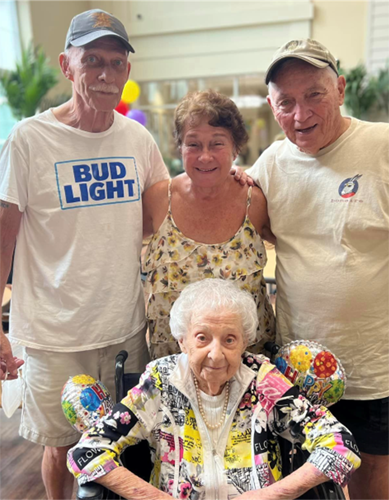 Lillian and her family celebrating her 101st Birthday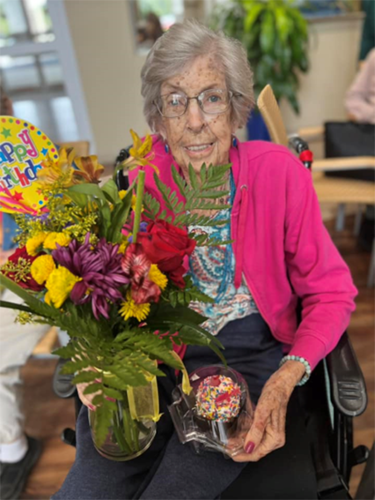 Robin receiving flowers and a cupcake on her birthday
Resident Spotlight: Bernice P.
We want to take a moment to recognize Bernice P. as a part of our Aravilla Family. Bernice was born on December 3rd in 1927. She was born and raised in New York. After graduating high school and college, she was determined to become a professional dancer. Bernice performed for many years as a tap dancer. Radio City Music Hall was both her work and happy place. Apart from dancing, Bernice loved to sew. She would make all of her clothes by hand! Shortly after getting married, Bernice moved with her husband to Florida. Together they have 4 children, one girl and three boys, who now have kids of their own. She is one proud grandma! After many years of being a housewife and raising children, Bernice had the opportunity to travel. In addition to covering the United States, Bernice traveled all the way to China, Italy, and Germany. She feels most comfortable and happy here in Florida. Bernice is a very smart, loving lady who enjoys her time here at Aravilla very much. You will always find her participating in our activities and you'll always notice her ever-present smile in our Promenade!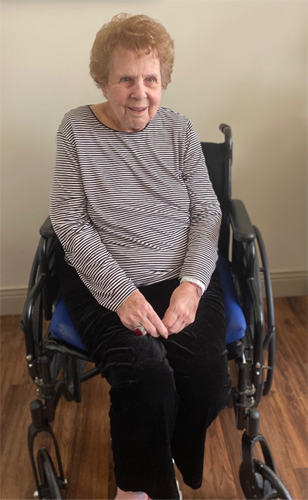 Bernice fresh out of the salon loving her new hairdo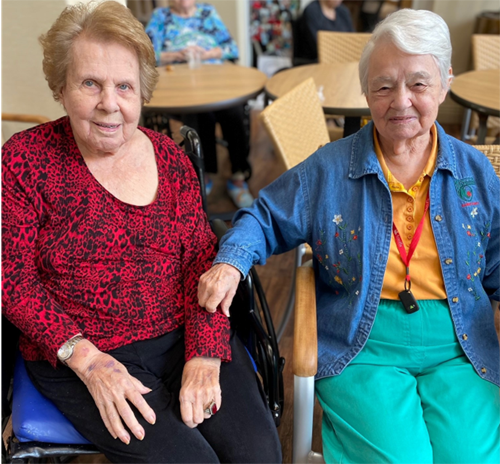 Bernice and Jo hanging out in the promenade together
OCTOBER ACTIVITIES!
10/4 Botanical Gardens
10/6 Beach Walk
10/11 Phillipe Park
10/13 Nature Park
10/18 Pier 60
10/20 Ice Cream Adventure
10/25 Heritage Village
10/27 Mystery Drive
10/28 Halloween Fall Festival
Celebrate October Birthday's
in the Promenade on October
26th starting at 1:45pm
Happy Birthday to:
10/6 Susan Salisbury
10/10 Kenneth Keys
10/12 Luz Velez
10/17 Rose Pacelli
10/18 Mary Beth Manus
10/19 John Murphy
Join our Concierge Cardio
Class every Monday,
Wednesday, and Friday
morning at 10.
Halloween Fall Festival
October 28th, from 4pm-7pm
Families invited to join!
RSVP with Receptionist at Front Desk