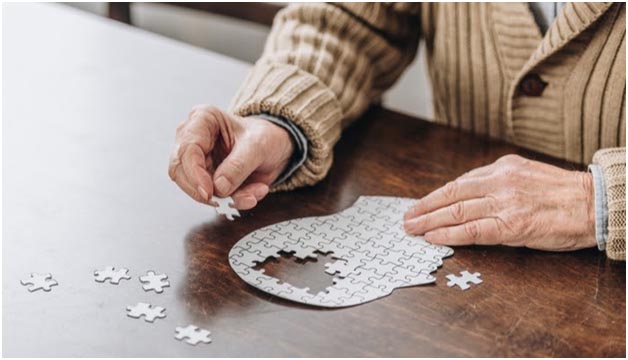 Most cognitive impairments like Alzheimer's, memory loss and dementia are progressive conditions that worsen over time. In the early stages of dementia, your loved one can still be independent enough, but as the disease progresses, they may require full-time care. For this reason, it's challenging to know when your loved one will need the specialized help that memory care can provide. People can feel overwhelmed with increased care demands and still be wary and uncertain as to the right timing for transitioning into a memory care community. Before we dive deeper, let's explain what memory care is.
Memory care is a type of senior living that provides intensive, specialized care for individuals with advanced memory issues. Memory care is provided in memory care communities, which are safe environments where medical staff can closely monitor the health and state of the residents.
Memory care communities also provide programs, events and activities designed to help residents work on their cognitive abilities while also enjoying their passions and hobbies. Staff in these communities are specially trained to provide the highest quality care needed for people with memory loss.
How to Know When it's Time for Memory Care
Beyond typical forgetfulness, dementia symptoms can include confusion, agitation, delusions, extreme personality changes and disorientation that can put your loved one, you and your family members at risk. So, how can you tell when you can no longer provide the care your loved one needs? Here are some indicators that it may be time to consider memory care.
You Worry All the Time About the Safety of Your Loved One
Whether they live alone, with you or in an assisted living community, if you worry about their safety all the time, it may be an indication to move them to memory care. Memory care communities are specifically designed to meet the needs of people living with memory issues, and with specially trained caregivers, your loved one will be taken care of around the clock.
You Worry About Your Safety
As dementia progresses, many people can experience fundamental personality changes. Their confusion and agitation grows and can lead to violent outbursts. If your family member is exhibiting these signs and you worry about your own safety or the safety of others in your home, it may be best to opt for memory care. Health professionals in memory care communities are familiar with such symptoms and know how to help residents deal with their emotions in a safe and productive manner.
Emotional and Physical Exhaustion
Caregiver burnout is a debilitating condition brought on by unrelieved stress, and it should not be taken lightly. It is real and very common. Many people who are taking care of their loved ones let their own health suffer, lose sleep, feel constantly fatigued and experience a myriad of other unpleasant symptoms that can harm the quality of their lives. When this happens, the best thing is to partner with memory care professionals who can take care of your loved one, while still involving you in important care decisions.
Decline in Hygiene
Those with memory issues may forget to bathe, put on fresh clothing, brush their teeth, shave or style their hair and can also be agitated when their caregiver attempts to support them with these needs. A trend in declining personal hygiene indicates that your loved one needs expert care that memory care communities offer.
Neglect of Finances and Susceptibility to Scams
Your loved one may forget to take care of their finances, failing to pay their bills and check their mail for important notices. Neglecting finances can also leave your loved one open to scams, putting their finances at risk.
Takeaway
The Aravilla Clearwater Memory Care Community is designed to meet the unique needs of people who suffer from dementia. Just because your loved one may be having memory issues, doesn't mean that they can't live their fullest life. We make safety a priority, but we also provide your loved one with fun and engaging activities, delicious and freshly prepared meals and an overall sense of social support.